Sourcing candidates for a job is never an easy task for both the HR department of companies and head hunters. Typically, the recruitment process goes from identifying the vacancy, preparing the job description, sourcing of databases, role marketing, short-listing of candidates, interviewing applicants, and reference checking, to the actual job offer. It's a long and complicated process, which is why companies enlist the help of head hunters for recruitment solutions.
With different factors reshaping the workforce culture, it is important to take current facts and statistics into consideration before putting your hiring strategies into place. This data will help you better understand how the industry is moving forward and have a clearer outlook about the workforce.
Numbers don't lie. Let actual data drive your recruitment strategy to success. Check out these critical facts that will make you rethink your recruitment strategy.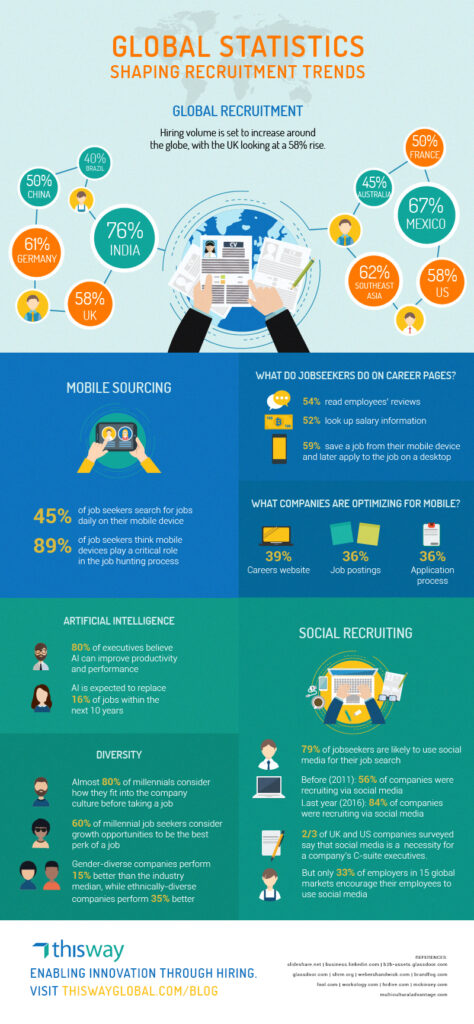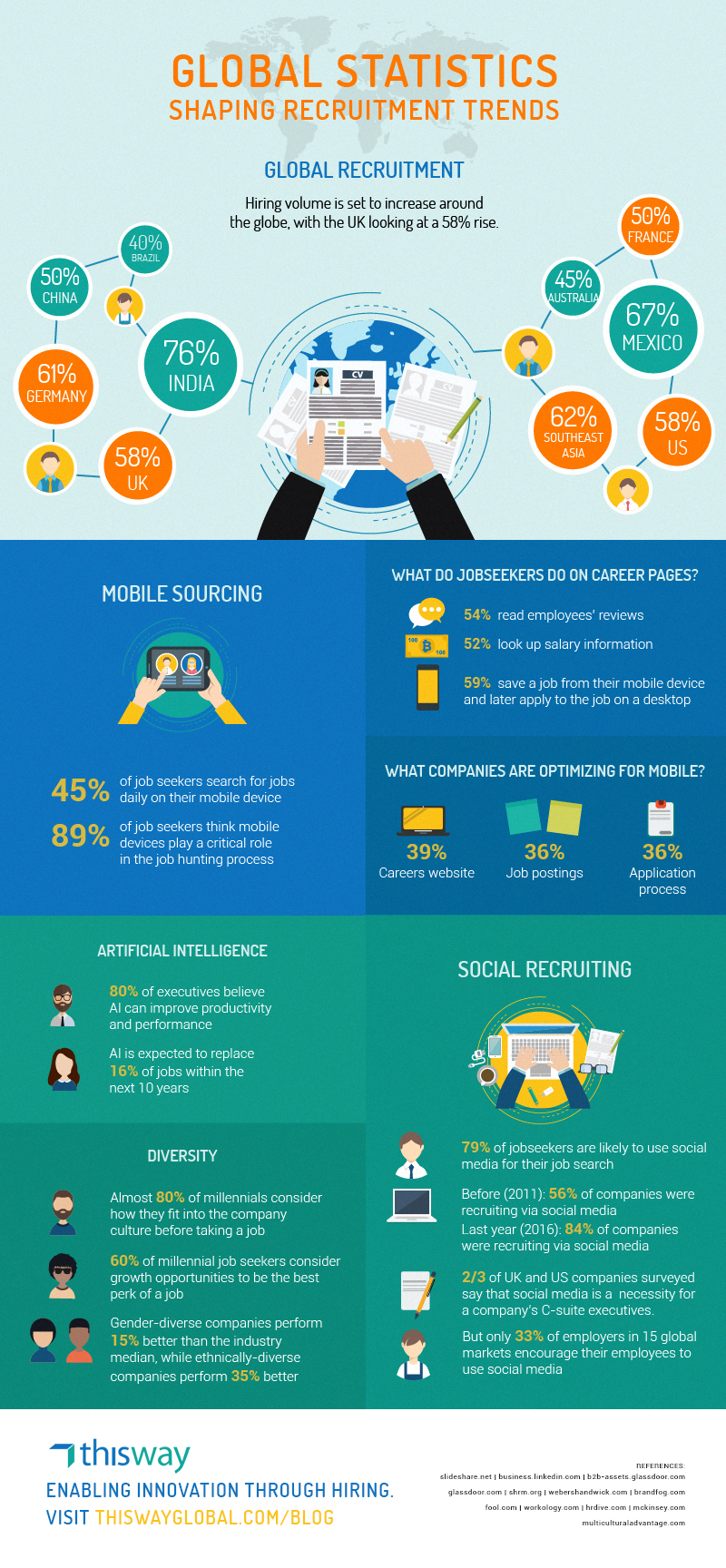 What do these stats mean for recruiters?
According to Glassdoor's survey, the current factors that impact recruitment solutions are employee branding, employee engagement, social recruiting, transparency, and the increasing number of millennials in the workforce. These trends are crucial to the success of talent acquisition and hiring strategies of both companies and head hunters.
By 2030, it is estimated that millennials will make up 75% of the workforce. These young, tech-savvy professionals are highly-educated and expect a lot more than just fair compensation from their jobs. They want stability and opportunity for career growth. In fact, 46% of millennials left their last job due to lack of career growth.
Employee Retention
This may be why employee retention has become an increasing problem for most recruitment agencies and companies. It's necessary to assess why these millennials keep job hopping and figure out how to keep them happy at their jobs. What are these young, tech-savvy professionals really looking for?
Transparency
Making sure that job postings provide complete work details. This prevents the fast turnover of employees and eliminate the need for companies and businesses to spend more than they can on recruiting new hires. 61% claim that the work description provided during the job interview is different from the actual work that is expected of them after they were hired.
Employee Branding and Engagement
Companies and employers should invest in their brand reputation. Job seekers look at reviews, employee feedback and other social cues when deciding whether or not they should apply for a job.  Candidates are in control and recruiters need to adjust their strategy to keep up with the trends.
Social Media and Mobile Recruiting
Statistics clearly show that mobile technology and social media channels are key factors in the success and effectiveness of job recruitment. Invest in social media marketing to get the finest talents.
Make your brand visible in social media, where job seekers usually look for job openings. Mobile apps and responsive websites are also necessary to ensure that your job postings are seen by the tech-savvy millennials. If your careers page is not mobile-friendly, then you're missing out. Get your brand out there.
It's Time for a New Strategy
Finding top candidates for a specific job is like looking for a needle in a haystack. At ThisWay Global, we've taken the most advanced and innovative automated intelligence technology available to create the Match-ic™ machine. It features an accurate learning algorithm to find and attract the right candidates for a specific job posting.
According to Office Vibe, it takes an average of 27 days to hire a new employee. The Match-ic™ machine can perform this tedious and time-consuming HR recruitment process in just a few seconds. Imagine that. With the AI technology of the Match-ic™ machine, you can acquire top talents and speed up the recruitment process to lower your cost per hire and fill empty positions with the right candidate that matches the job and company culture perfectly. How's that for a recruitment solution?
Summary
Article Name
8 Critical Recruiting Facts That Will Make You Rethink Your Hiring Strategy
Description
Let actual data drive your recruitment strategy to success. Understand how the recruitment industry is moving forward with these critical facts and stats.
Author
Publisher Name
Publisher Logo