Most companies and businesses invest a lot of time, money, and human resources in finding the perfect talents for an open position. A huge portion of the recruitment budget goes into a variety of hiring strategies such as posting job advertisements both online and offline and contracting more headhunters and recruitment consultants.A survey by the Society of Human Resource Management discovered that the average cost per hire is at $4,129, and it takes approximately 42 days to fill an open position. In addition, other studies have shown that the time-to-fill metric has increased from 25% in 2014 to 28% in 2016. Open positions are staying open far longer than expected, and businesses are losing money every day.
Screening resumes and shortlisting talents is an increasingly cumbersome and time-consuming task for HR personnel. According to a recent survey, 52% of talent acquisition leaders experience a highly difficult time screening talents from a large pool of candidates.
Enter machine learning.
AI recruiting is the application of automated intelligence or machine learning algorithms to the recruitment process. Specific algorithms are set in place to find and sort top candidates in a matter of minutes, and give you a shortlist of applicants that are perfect for the job you posted.
With machine learning recruitment, the process of sourcing, attracting, screening, assessing, and matching candidates is automated using data collected from a wide variety of sources and channels such as social media, employee history, employer information, and other pertinent details. This eliminates time and financial constraints from the recruitment and hiring process. Automated intelligence and machine learning recruitment can standardize the process and objectify the assessment of each applicant.
While there are a lot more benefits and advantages to machine learning recruitment versus the traditional hiring process, we've come up with a simple guide to help you compare the two recruitment processes.
The process of traditional recruitment and hiring involves a series of convoluted and lengthy steps that involve a lot of people inside and outside the HR department. The first few steps alone—from identifying the vacancy to selecting the search committee will take weeks (if not months) to complete.
Looking for top talents and creating a pool of candidates will take even more time and cost more money. On the other hand, automated intelligence or machine learning recruitment can do this in just a few minutes. It can also provide a much broader pool of candidates to accommodating this generation's demand for quality and diversity.
Eliminate Exorbitant Costs
The AI machine learning technology, such as the Match-IC, can be incorporated into your current HR processes to ensure a more efficient and effective recruitment strategy. With a minimum monthly fee, you can use AI machine learning to supplement all your recruitment and hiring endeavors.
Because AI machine learning enables you to find both passive and active talents faster, your company saves time and effort in recruitment and hiring. Open positions that remain unfilled costs your business thousands of dollars in productivity for as long as the seat stays unfilled.
Employee retention is becoming an increasingly difficult and costly problem for most companies and organizations, and AI helps solve this by finding the candidate that perfectly matches your company's culture and values, and of course, the position.
Time, effort, and human resources spent on recruitment can then be allocated to more profitable and developmental endeavors. AI will definitely help your company grow and succeed in the new world of work.
Data-Driven Results with Increased Matching Accuracy
Because AI recruitment uses objective data and science, biases and subjective opinion are eliminated from your recruitment and hiring process. This can further eliminate human errors in judgment.
Bottom Line
Machines will never be able to replace human creativity and judgment. But with AI, algorithms and formulas can be customized according to what each client is looking for to ensure that the right candidate is matched perfectly to the right position in terms of location, salary, educational background, professional experiences, and culture.
This is not to say that AI can stand alone in the recruitment process. It's merely a tool to help recruiters increase their margins. Just imagine the results when an AI machine is supervised and operated by a competent HR or recruitment professional. This tandem can and will revolutionize the recruitment and talent acquisition industry.
By combining both human efforts and machine learning in the recruitment and hiring process, your company can save precious hours and tremendous amounts of money. More importantly, your turnover and attrition rates will lower because AI ensures that you get the perfect talent for every position.
If you want to improve your hiring process, consider supplementing your efforts with machine learning recruitment.
Share this Image On Your Site
Please include attribution to https://www.thiswayglobal.com with this graphic.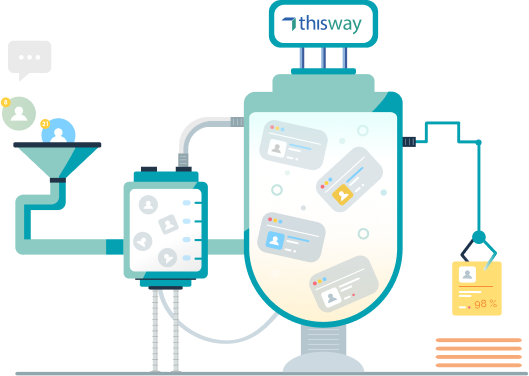 Summary
Article Name
Normal Hiring Process VS Machine Learning Recruitment: A Comparison Guide
Description
How does machine learning recruitment differ from the traditional hiring process? We've come up with a simple guide to help you compare the two.
Author
Publisher Name
Publisher Logo