Our team had the pleasure of participating in this year's HR Tech Conference held September 13th -16th at Mandalay Bay in Las Vegas.
The HR Tech Conference is one of our favorite annual events, as it allows attendees to get a firsthand look at all the latest technology covering every facet of Human Resources. It is a huge timesaver for companies looking to explore what technologies are available, allows for on-site demos, and networking opportunities at every turn.
We kept the Las Vegas energy alive by hosting a number of events throughout the course of the week. Check them out below!
Cocktail Party
Kicking off the event on the 13th, we were excited to welcome both old and new friends to come celebrate HR Tech with ThisWay!
Held in the Orchid Room of the Mandalay Bay, this invite-only event was a huge hit.
It was the perfect way to kick off the show, allowing everyone to brush off the jetlag and enjoy some delicious refreshments and conversation in a crowd of some of the HR Industries biggest players.
Live Podcast
The following afternoon, Angela sat down with fellow HR Tech pros  Joel Cheesman and Chad Sowash for a LIVE recording of Chad & Cheese.
This fireside chat brought some extra fire… whiskey! Alongside each of the conversation topics, guests had a chance to taste various whiskeys. This was a highly attended event and guests had a great time getting to follow along the chat with some delicious pairings.
Be on the lookout for the recording coming soon – it was epic!!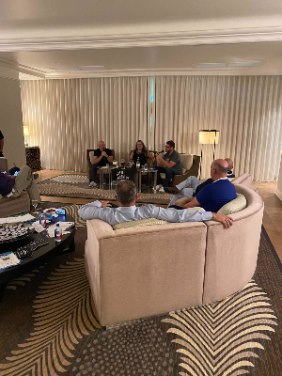 Continuing an action-packed week, our very own Angela Hood, Founder & CEO of ThisWay, sat down with Leslie Chau, Product Management at IBM Watson Orchestrate, to answer the question: Is there an opportunity to use intelligent automation to scale and accelerate the talent acquisition process while removing bias from candidate selection?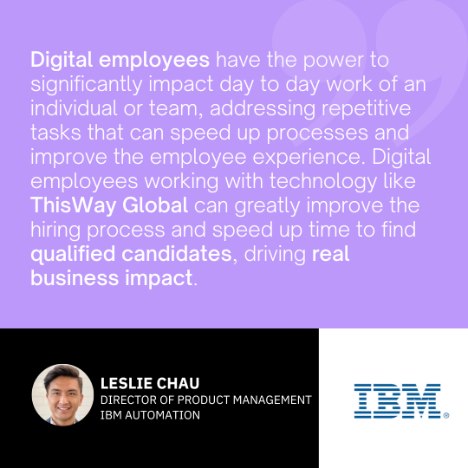 With approximately 11 million open job roles in the United States, organizations are struggling to find qualified candidates. In efforts to quickly hire talent, mistakes can be made that create poor candidate experiences and may unintentionally impact your candidate pool.
This was a very well-attended event and we were excited to share the gaps in the hiring experience our combined technologies are working to solve for.
¡Viva HR Tech! Playlist
With all of the events taking place throughout the week, it was a must to have some energy boosters along the way. Our team took this as a challenge to create the perfect HR Tech conference playlist to keep everyone moving and grooving!
It is the perfect mix of old, new, and the excitement of Las Vegas all mixed into one.
Click here to download the playlist and relive all of the fun with us!
Recap
It's hard to believe that we were able to pack so much fun into a single week, but thanks to our partners, customers, and special guests, we were able to do just that.
We are excited to keep the momentum going as we continue to showcase how our proprietary automated intelligence can help organizations fairly and equitably find the right people!
Summary
Article Name
ThisWay at HR Tech Conference & Expo 2022
Description
The ThisWay team brought the fun to the HR Tech Conference through a number of well-attended events and networking opportunities. Check out the recap here!
Author
Publisher Name
Publisher Logo