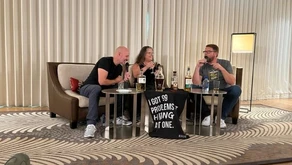 Our team had the pleasure of participating in this year's HR Tech Conference held September 13th -16th at Mandalay Bay in Las Vegas.
While there, our very own Angela Hood, CEO and Founder of ThisWay Global, sat down with fellow HR Tech pros  Joel Cheesman and Chad Sowash for a LIVE recording of Chad & Cheese.
This was a private event with about 40 in attendance who were able to watch the recording live while also learning more about whiskey and some unique pairings.
The trio discussed what happens when you become a Google accelerated startup, what unbiased recruiting really looks like, the dos and don'ts of crowdfunding and much more.
Check out the full podcast here!
Subscribe to our newsletter to receive the latest news and exclusive offers. No spam.
A 3 Step Guide For Creating a Genuinely Diverse Company Culture
Increase diversity within your organization, ThisWay!