Talent Acquisition Software for STEM Disciplines
STEM talent is crucial for a wide variety of different businesses. STEM professionals are responsible for advancing scientific and technological breakthroughs in various fields. STEM professionals are essential for large enterprise companies, government agencies, and organizations to operate. As a recruiter, STEM talent can be the hardest to find. These professionals are equipped with specialized talent, rigorous skill sets, and extensive training that can advance innovation and progress. If your organization is recruiting for STEM talent, ThisWay's ethical AI platform can help you find the right talent for your organization.
Ethical AI helps companies looking to fill positions in the STEM field by streamlining their recruitment process to ensure a fair and unbiased evaluation of each candidate's qualifications. Ethical AI takes into account variables such as education, skills, and experience, allowing companies to identify top talent and better match candidates with their desired role.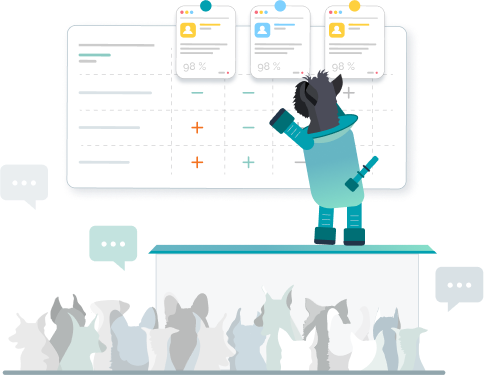 The Current State of the STEM Job Market
By the end of 2024, 8.9 million STEM will have been created in the United States alone since 2014. The Bureau of Labor Statistics anticipates demand for professionals in STEM fields will increase by 10.8% by 2026. STEM professionals possess a variety of skills, including problem-solving, analytical thinking, creativity, and attention to detail. Here are some upcoming STEM discipline jobs: 
Biomedical Scientist:

As the population ages, healthcare demands are expected to rise and increase the need for more experts in the biomedical field.

Data Analyst:

Businesses have discovered the benefits of data analytics, which requires highly-skilled experts to make informed decisions.

Software Developer:

This job requires individuals with excellent programming skills and creative ability to develop efficient software applications that solve problems.

Renewable Energy Technician:

Climate change awareness is encouraging individuals and companies to opt for renewable energy sources, hence, the demand for technicians to manage these systems.

Nanotechnologist:

Nanotechnology is gaining momentum, with increased applications in the production of innovative products, leading to a demand for specialists in the field.

Advanced Manufacturing Specialist:

As production and manufacturing industries are advancing, highly-skilled individuals are needed to manage these complex systems.
STEM professionals often hold masters or doctorate degrees in fields such as engineering, computer science, biology, mathematics, and physics. Their education has allowed them to become highly knowledgeable in their respective disciplines, providing a foundation for them to innovate and solve problems. Many also conduct research, furthering their organization's ability to bring products to market and make new discoveries.
The Power of Ethical AI for STEM Talent Acquisition
Organizations are in constant need of highly skilled talent as the STEM field continues to grow. Traditional recruitment processes often exclude qualified candidates from diverse backgrounds due to bias. By utilizing advanced algorithms, ThisWay removes demographic backgrounds from the recruitment equation, allowing candidates to be assessed purely on their skill set. ThisWay's ethical AI-driven approach leads to an efficient, objective, and inclusive screening process, providing STEM organizations with the best possible talent for the job.
ThisWay's platform easily integrates with an organization's existing database. This integration enables hiring managers and talent professionals to access applicants from previous job postings. 
ThisWay's platform also offers a range of solutions for STEM organizations without an Applicant Tracking System. With its innovative candidate-ranking system, ThisWay ensures that each candidate is evaluated based on relevant skills and experiences, resulting in a diverse pool of highly skilled candidates that meet the unique needs of STEM organizations.
ThisWay's ethical AI is also equipped with advanced certification and skill recognition capabilities, allowing organizations to identify highly qualified candidates swiftly. In today's fast-paced and competitive STEM landscape, talent acquisition is a key component to organizational success. 
Features That Are Your Solution to Finding STEM Talent Quickly
As the demand for STEM talent grows, organizations need an efficient solution to identify qualified candidates. These features that are part of ThisWay will help your organization quickly identify top talent. 

Attract: Remove Bias and Find Qualified Candidates
Attract lets organizations upload their job descriptions, letting the system remove any potential bias. This way, only the qualified candidates who match the skills and requirements for the position will receive the job posting, streamlining the application process for the organization. 

Discover: A Diverse Pool of Candidates with Different Skill Sets
Recruiters can browse through ThisWay's diverse pool of candidates with varying skill sets to find the ideal candidate. With this feature, recruiters have the flexibility to search for candidates based on their specific requirements, making it easier to find the best match for each position.

Reveal: Identify Past Candidates Who May Be Qualified for a New Position
Reveal integrates with existing applicant tracking systems, enabling organizations to find past candidates who may be suitable for a new position. With this feature, organizations can access an extended pool of potential hires and reduce recruitment costs. Additionally, organizations do not have to deal with a stack of resumes from people who don't fit the job profile. 

Score: Match Candidates with Job Descriptions Without Using an ATS
Score makes it possible for organizations to upload job descriptions and candidate information without using an ATS, providing a solution for small organizations without the resources to manage multiple platforms. The system uses advanced algorithms to score candidates against the job descriptions, helping organizations quickly identify the most suitable candidates for the role. 
ThisWay's unique features are especially beneficial for organizations looking to hire candidates with STEM backgrounds. With a broad range of skill sets and qualifications required for STEM roles, organizations need an efficient and flexible system that enables them to streamline their recruitment process and access the best candidates for their roles. 
Book a Demo With ThisWay to Start Finding the Right STEM Talent for Your Organization
STEM organizations require top-tier talent for success. ThisWay provides the ideal solution for your talent acquisition needs, allowing you to discover top qualified talent before inviting them to interview. By implementing ThisWay's ethical AI, you can streamline your hiring process, increase efficiency, and diversify your workforce. Whether you're in the tech, engineering, or science field, ThisWay will help you discover exceptional talent.