As the real estate industry continues to grow and change, the need for skilled professionals has never been higher. ThisWay's ethical AI talent screening platform helps real estate companies find the best candidates while eliminating any biases that may exist. The platform focuses solely on skills and qualifications, ensuring every candidate is a good fit for the job posting. ThisWay helps organizations bypass the traditional job board and focus on finding candidates that are a perfect match for the posting, saving time and effort on the talent acquisition team.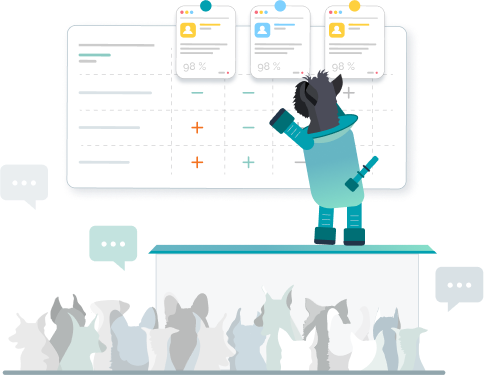 Outlook for Job Growth in the Real Estate Sector
The real estate industry has seen a steady increase in job growth in recent years, driven largely by an increase in home sales and rising property values. According to the Bureau of Labor Statistics, employment in the real estate industry is projected to grow by 7% from 2018 to 2028, faster than the average for all occupations. 
According to the National Association of Realtors, as of 2021, approximately 66% of real estate agents are female, while 33% are male. Additionally, the median age of real estate agents is 54 years, with a range of ages represented in the field. In terms of education, while a degree is not required to become a real estate agent, approximately 57% of real estate agents have completed some college coursework, and 27% have earned a bachelor's degree. Additionally, approximately 20% of real estate agents hold a graduate degree. 
In addition to real estate agents and brokers, some jobs that companies might be looking to fill include: 
Property managers

are responsible for overseeing the day-to-day operations of rental properties, including maintenance, repairs, and rent collection. They work closely with property owners to ensure that properties are rented and managed effectively, and that tenants are happy with their living conditions.
Real estate attorneys

are legal professionals who specialize in real estate law. They help clients navigate the complex legal issues that arise in real estate transactions, including zoning laws, property rights, and title issues.

Real estate researchers

collect and analyze data related to the housing market, such as property values, market trends, and demographics. They provide valuable information to real estate agents, brokers, and developers to help them make informed decisions about their business.
Challenges to Hiring in the Real Estate Industry
Like any other industry, real estate businesses face several challenges, one of which is finding and attracting new talent.

The real estate industry is competitive, and firms are continually seeking to hire the best and most skilled employees. With so many firms offering lucrative salary packages and incentives, real estate businesses have to go the extra mile to attract new talent. In addition, the industry also competes with other sectors such as technology, finance, and healthcare for top-notch talent.

Real estate businesses require professionals who have a wide range of skills, such as marketing, finance, negotiation, and customer service. However, not many people possess these skills, which leads to a skills gap in the industry. The result is that companies often struggle to fill positions, leading to lower productivity and slower growth. Many of these individuals will have a college degree while others may not. By focusing on the candidate's skills and not their background, your organization can find the perfect talent by using ThisWay. 

While most real estate professionals are women, older individuals tend to dominate the real estate industry. Many real estate companies might be biased towards finding older talent in the job search, an obstacle which ThisWay can help overcome with its ethical AI.  
Utilizing ThisWay in the Talent Acquisition Process
ThisWay works well for real estate businesses looking to find the right talent by eliminating bias in the hiring process. Through its innovative matching events, ThisWay removes candidate background biases, allowing businesses to see the most qualified applicants based on their skills and qualifications alone. ThisWay also caters to organizations without applicant databases by providing them with candidate scoring tools that help them identify and assess the best candidates. The platform also helps organizations eliminate bias in their job postings, ensuring they reach and attract the best candidates from all backgrounds.
Key Features for Real Estate Talent Search 
ThisWay's unique features include Attract, which removes bias from job postings to ensure qualified applicants are considered for open positions. By sharing job postings only with the most qualified candidates, employers can streamline the hiring process and avoid wasting time on applicants who do not meet their qualifications.
Discover allows employers to browse a network of candidates and filter those candidates by their skills and experiences. This feature makes it easy for employers to find the perfect candidate for any open position, and ensures that the recruitment process is efficient and effective. 
Reveal, the platform's integration with applicant tracking databases makes it easy for employers to find past talent for a given posting. For organizations without an applicant database, ThisWay offers Score, a feature that allows employers to upload job descriptions and candidate information to rank candidates and find the perfect fit for their open position.
Book a Demo to See Talent Acquisition Redefined For the Real Estate Industry
If you are a real estate business owner or HR manager, then you know the challenges of talent acquisition in this industry. It can be a long and tedious process, with numerous applications, interviews, and screening procedures to undertake. But with ThisWay, your search for the best real estate talent just got easier. Our ethical AI recruitment platform offers a seamless and efficient approach to identifying the most suitable candidates for your real estate roles. Our advanced matching algorithm takes into account factors like skills, experience, culture fit, and career goals to ensure you get the right people for the job. Book a demo today to see how ThisWay can help your organization find the right talent.